IN 1970, MARK RUDKIN, a painter from Connecticut, purchased a house and four acres in Coignieres, France, a small market town 13 miles southwest of Paris. Although it is close to the French capital, the area still contains woodlands and meadows. The property Rudkin bought is primarily hillside with a stretch of flat ground at the bottom. At the lowest point there is a pond, stopping place for migrating ducks and home to frogs and small fish, which shelter under the large leaves of waterlilies. This small sheet of water has always reminded Rudkin of his childhood canoe trips, when he would go out at dawn to watch the white waterlilies open.
Though the hillside now offers views of neighboring farms and distant woods, when Rudkin arrived the land was a thicket of brambles and weeds engulfing some handsome oaks and chestnuts. For a number of years, he devoted his efforts to clearing brush and trees, pulling stumps, and opening views. Occasionally, he planted trees and shrubs without any overall plan. But a design was indeed forming in his imagination, and in 1978 he started making it a reality. Today the slope below the house is clothed with vegetation for spring interest, including superb camellias, magnolias, rhododendrons, azaleas, and opulent dogwoods (Cornus florida), which flourish in the acidic soil and the climate of the Ile-de-France. In addition, an array of trees and shrubs provides luxuriant autumn foliage and fruits: parrotias, Japanese maples, cherries, crab apples. Climbing roses are trained into many of the shrubs, and the ground is thick with ferns, primroses, and countless spring-flowering bulbs.
To fill the void between the hillside's dramatic spring and fall displays, Rudkin decided to turn the flat part of the property into a formal ornamental garden, which reaches its peak between June and September. This garden, totally different in character from the woodland, is surrounded by green walls of yew, arborvitae, beech, and hornbeam. Doorlike openings guide the stroller into this garden, while "windows" offer views of the neighboring fields.
Inside the walls, he created a series of small square garden rooms with grass walks and stone paths. A combination of hedges and trellises divides the spaces, and slight changes in grade accentuate the size and variety of the beds. In some rooms, low hedges of clipped boxwood enclose the luxuriant massed plantings. There is a garden mostly of roses, old and new, which shine not only in summer but also in autumn when hips dangle from the branches and masses of Sedum |Autumn Joy' billow around their bases. In another room, a flat rock garden provides a haven for a thousand treasures; here crocuses bloom in earliest spring, followed by species narcissus, pulsatillas, mountain pinks, and wild phloxes.
Three of the rooms are devoted to particular colors one to blue flowers, one to pinks and mauves, one to whites. In the blue garden, at the beginning of the summer, antique roses and Geranium |Johnson's Blue' weave among the long spires of foxgloves and white and blue delphiniums. The chartreuse flowers of lady's mantle (Alchemilla mollis) and Thalictrum flavum subsp. glaucum provide an enlivening contrast. Later, dahlias, chosen with care for the harmony of their shades, burst from clouds of gypsophila. In another garden room, bronze fennel, irises, campanulas, and lychnis mingle happily with large-flowered clematis.
"I do not like restraint," explains Rudkin, "and I don't force any plant to live in the place that I have chosen for it. I experiment, and if the result is good, then I establish more plants. In this way, Tanacetum parthenium is almost naturalized, and now all I have to do is pull self-seeded plants when they are too numerous."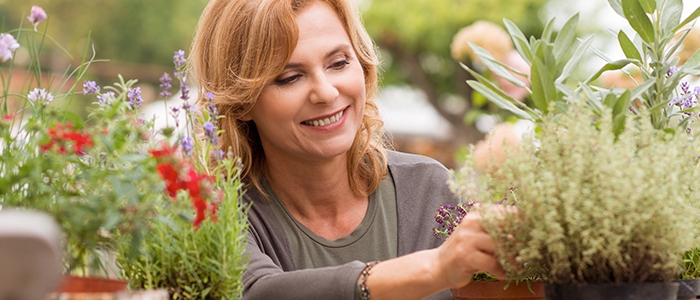 At the end of the summer comes the festival of fuchsias, asters, dahlias, and sedums. "Asters are miraculous plants," Rudkin remarks. "Their slim stature permits other plants to develop. They don't crowd out lupines, phloxes, or delphiniums in summer. Those that grow too full, I pull by hand each week."
Rudkin is a landscape designer who does not like to theorize about the creation of gardens. And he is a painter who is also an excellent botanist, a gardener committed to the search for "the perfect equilibrium a harmonious sense of proportion" as much as a subtle play of color.
After creating a number of private gardens for his friends and relatives, Rudkin was asked to design the garden at the Musee du Souvenir de Blerancourt. For this place, highly symbolic of Franco-American friendship, he has designed an extraordinary autumn garden filled entirely with plants native to North America. He was also recently chosen to remake the garden of the Palais Royal, in Paris. In this garden, as in all of his others, he will draw on the knowledge of plants and design gained at his property, where in 20 years he has succeeded in realizing one of the best contemporary French creations.